Home
| Lampionet
Lampionet
Multiutility Urban Device
Lampionet is a modular multifunctional tool for the city and the territory.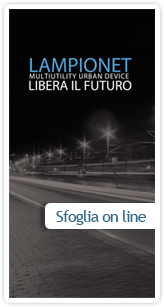 Lampionet believes in a sustainable future and works to achieve public spaces ordered on a human scale, where communication and providing services for citizens is an opportunity for civil development. Ours is a design vision easily capable of supporting and adapting to continuous change, thus reducing implementation times and optimising investment.

WHAT IS LAMPIONET?

LAMPIONET is the name of a new device which exploits modern technologies to integrate in one body a plurality of services and utilities which have now become necessities in today's society. LAMPIONET comes in the aesthetic guise of an elegantly-designed object with clean lines, but concealing within it a technological heart capable of configuring, customising and managing a set of solutions dedicated to the citizen and the locality.
LAMPIONET has unique characteristics of modularity and multi-functionality which make it the first "Multiutility Urban Device".
The various modules which can be linked together to make up LAMPIONET comprise recharging services for electric vehicles and devices, services for communicating with citizens, video surveillance, Wi-Fi access points for internet navigation, lighting for public areas and weather information collection services.
In LAMPIONET's vision, services are interconnected and utilise the same resources, such as internet connectivity used both for remote control of these services and for navigating the internet, where installation and maintenance are concentrated in a single easily-accessed location, set up for remote management of its components. LAMPIONET is administered by an efficient multi-level control panel. This function not only makes it very simple to use, but also makes it possible to provide differentiated access to the system, varying with the operator and the installed services.
The services for communication with the public can be connected to a common data source, to offer the same communication either through the control module or through a web portal or RSS channels.